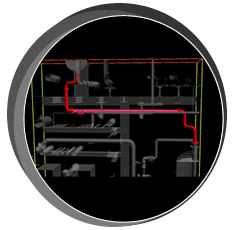 Mittag is established by experienced engineers who has worked in the well known multinational oil and gas companies for long years. The idea behind the company is to serve the Turkish oil and gas market with this unique know-how gained through years working in challenging projects all over the world.
Design of industrial plants is not a subject that is taught in the universities. The engineers who work in this industry gain the necessary knowledge and experience through years in a master and apprentice manner. There are books about this subject but combining the theory and practice is really a long process.For this reason this the knowledge used in this industry is a pure know-how.
Besides the calculation and design, constructibility is an important issue and finally of course the proper functioning of the system. Mittag has the engineers who are capable of fulfilling these objectives: Engineers who have learned the design and calculation in the office and have all the theorical knowledge, and on the other hand engineers who have learned the job at site and know very well how the execution of the construction will be and bringing in the design to life.
Because of its nature, industrial plant design must be done in the shortest time possible. There is no room for trial and error. This is only possible with the engineers who know the job very well, and have done the same type of job many times.
As a last word, we strongly believe that Mittag will be your reliable partner in your industrial design projects.